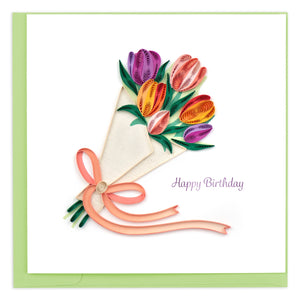 Send a colorful quilled tulip bouquet for a friend or loved one's birthday! They are sure to treasure these quilled flowers that will never wilt. The design features purple, orange and pink tulips in a wrapped bouquet with a pink ribbon around the stems. To the right of the bouquet is the purple foiled sentiment 'Happy Birthday'.

Don't just send a card, send art!
Description: All of our cards come with a coordinating envelope, and a short history of quilling on the back of the card. Our square cards require extra postage.
Inside Size: 6in x 6in