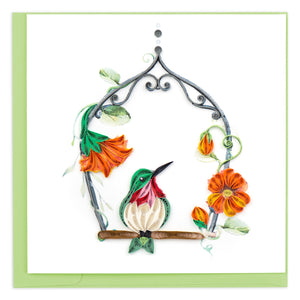 Send well wishes with our quilled hummingbird swing greeting card! Hummingbirds represent joy, healing and good luck making this a beautiful card for unlimited sentiments and occasions. The design features a decorative swing with a perched green, pink and cream hummingbird. Winding around the swing are vines of leaves and orange flowers.

Don't just send a card, send art!
Description: All of our cards come with a coordinating envelope, and a short history of quilling on the back of the card. Our square cards require extra postage.
Inside Size: 6in x 6in