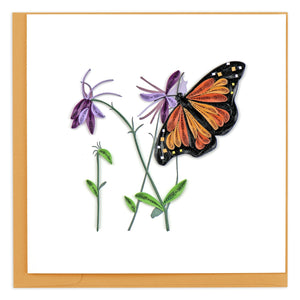 This symbol of transformation and new beginnings is a great way to celebrate a move or a new job. Our Quilled Monarch Butterfly card depicts the inspiring insect with orange and black wings, and long antennae flying next to purple flowers.


Each quilled card is beautifully handmade by a highly skilled artisan and takes one hour to create. A quilled card is meant for you to share, treasure as a keepsake, or display as the work of art it is.
Don't just send a card, send art!
Description: All of our cards come with a coordinating envelope, and a short history of quilling on the back of the card. Our square cards require extra postage.
Inside Size: 6in x 6in
*Extra postage required for mailing