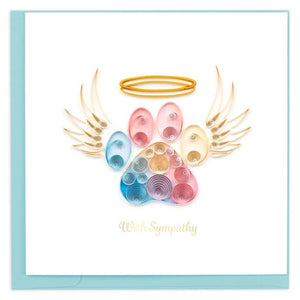 The fine handcrafted lines of the quilled halo over the dogs paw will bring comfort to those who have lost a dear friend. The warm color of the dogs paw is enveloped by wings and thoughtful greeting of "With Sympathy"
Each quilled card is beautifully handmade by a highly skilled artisan and takes one hour to create. A quilled card is meant for you to share, treasure as a keepsake, or display as the work of art it is.
Don't just send a card, send art!
Description: All of our cards come with a coordinating envelope, and a short history of quilling on the back of the card. Our square cards require extra postage.
Inside Size: 6in x 6in
*Extra postage required for mailing