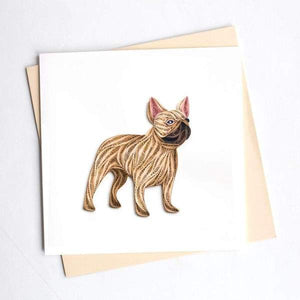 The French Bulldog is one of the smallest breeds, save for its oversized ears! This cute quilled version features the member of the toy group with light and dark brown fur, that is popular with the higher classes of European society

Each quilled card is beautifully handmade by a highly skilled artisan and takes one hour to create. A quilled card is meant for you to share, treasure as a keepsake, or display as the work of art it is.

Don't just send a card, send art!
Description: All of our cards come with a coordinating envelope, and a short history of quilling on the back of the card. Our square cards require extra postage.
Inside Size: 6in x 6in