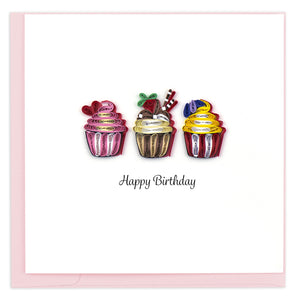 They probably made their own cake, so say Happy Birthday to the baker in your life with our Quilled Birthday Cupcakes card! This piece of paper art depicts three cupcakes with candles in pink, red and yellow, with the text Happy Birthday underneath.

Don't just send a card, send art!
Description: All of our cards come with a coordinating envelope, and a short history of quilling on the back of the card. Our square cards require extra postage.
Inside Size: 6in x 6in