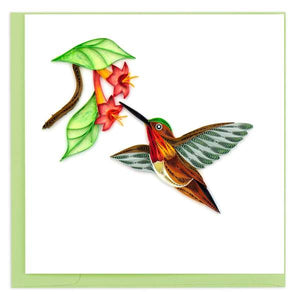 Hummingbirds symbolize appreciation making this quilled greeting card the perfect design to show gratitude to a loved one. The design features a Rufous Hummingbird with brown, orange, red and green feathers paused in flight with its beak collecting nectar from a flower. 

Don't just send a card, send art!
Description: All of our cards come with a coordinating envelope, and a short history of quilling on the back of the card. Our square cards require extra postage.
Inside Size: 6in x 6in