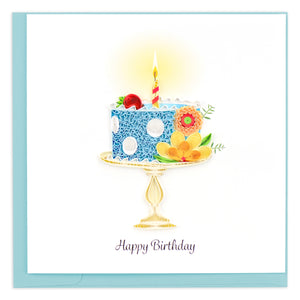 Another year, another exquisitely quilled birthday design for your loved one! Help your friend or family member celebrate their birthday in style with the Quilled Whimsical Birthday Cake card. A birthday cake quilled in blue and white with a single lit candle on a golden cake stand adorns the front of this card. The cake is dressed with red, pink, and yellow flowers. The words "Happy Birthday" are written in script under the design.

Don't just send a card, send art!
Description: All of our cards come with a coordinating envelope, and a short history of quilling on the back of the card. Our square cards require extra postage.
Inside Size: 6in x 6in